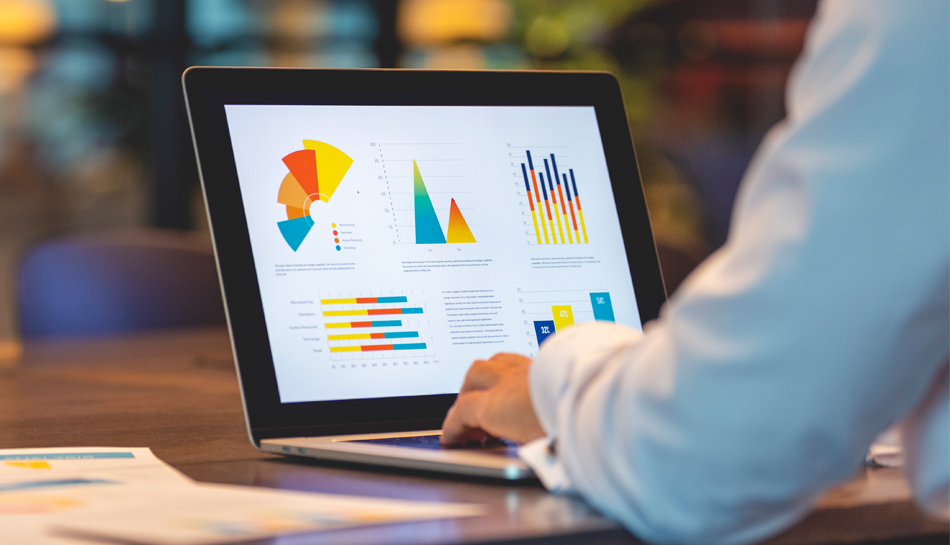 In our world of big data, effective charting and visualisation are incredibly important in clearly communicating insights. Visually appealing data is more memorable than raw figures, and makes findings clearer and easier to understand, rendering the results of your research much more engaging.
Effective data visualisation is incredibly powerful as it allows for storytelling beyond numbers, and it doesn't have to be difficult or time-consuming if left to the experts, giving you more time to focus on delivering research projects and insights.
In converting data into a format that's more accessible and digestible to users, charting and data visualisation makes it easier for users to understand data, analyse trends, and identify key insights through dynamic dashboards, interactive reports, graphs, tables, and other visual representations.
These applications make it easier to highlight key takeaways, spot trends, and communicate analytical findings in an appealing way, helping readers understand the story that the data is trying to tell them.
Here are our top five reasons why data visualisation is central to engaging insights:
Make the data interesting

Stop the 'eye-glazing over' look and make your data more interactive and interesting. There's a reason why people say a picture is worth a thousand words - complex data in a massive spreadsheet can be incredibly overwhelming, making it difficult for users to digest in any meaningful way. Users retain visual information better than columns of numbers or text therefore data visualisation is a great way of presenting the data and keeping your audience engaged.

Simple and fast way to interpret and share data

Give your clients attention-grabbing and impactful visualised data which is understood instantly. Easily highlight any important facts about market trends using infographics or charts, showcasing key findings.

Simplify large volumes of data

If you're tasked with sharing findings back to a client team, outsourcing the charting does the hard work for you. Not only will our data visualisation services save you time, it will also help you interpret the findings, and guide your recommendations. Using charts and graphs helps establish relationships between different data types and information, highlighting key takeaways.

Intuitive, personalised and easily updated

Choosing the format is key - personalising the look and feel is vital, and it's important to ensure that the graphics can be easily updated meaning you can modify the layout, brand colours and data presented as needed. Fully interactive platforms can go one step further in a dashboard so you can click through and drill down into the data that sits behind the charts and graphics.

Elevating decision making

Access to real-time data makes decision-making faster, with instant access to constantly evolving information facilitating dynamic responses.
Interested in learning more about our charting services, and how our experts can transform your data?