QualStage: Remote Qual Platform
Supporting Remote Qualitative Research
Designed by a team of expert market research professionals with experience spanning across operations, technology and compliance, our new QualStage platform supports remote qualitative TDI, WATI, and focus group projects.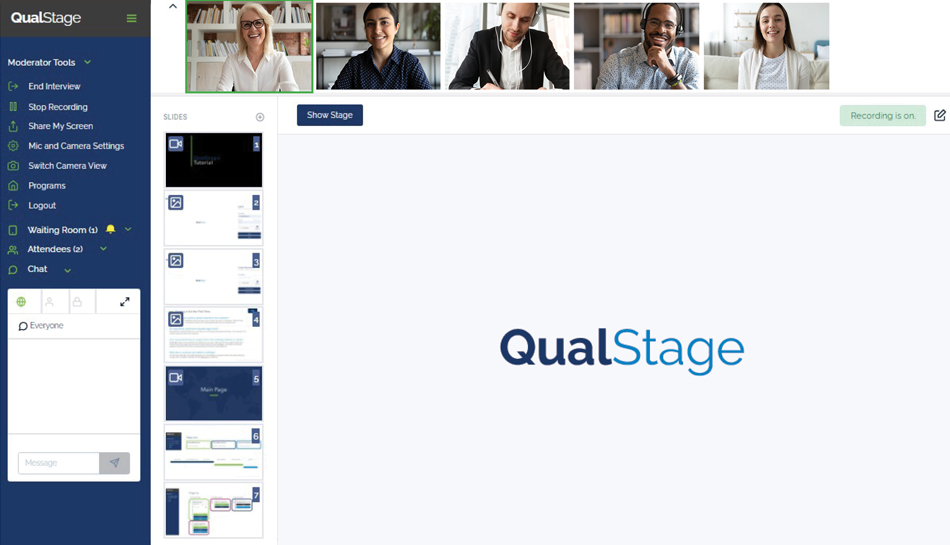 Key Features
User-centric design with intuitive controls and functionality
Full integration with our proprietary online scheduler and screener tools for seamless participation
Private virtual backroom for observers and clients to watch and listen live
Recordings processed immediately after the session, and accessed via the QualStage platform - one point of access for all touchpoints
Data protection and security designed specifically for sponsor needs
Real-time support from your project team
Web-based device agnostic platform requiring no downloads or additional hardware
Moderator Essentials
No time limit
Generous participant limit
Set stimuli up in advance
Seamless transition between projects
Working with a global consultancy firm, who were commissioning the research on behalf of their pharmaceutical industry client, M3 Global Research was asked to secure interviews with six dermatologists practicing in the USA.
These interviews took place at the end of January / beginning of February 2021. Given COVID-19 restrictions, online research was preferable, supported by M3's primary market research revealing high comfort levels with remote qual. Due to the remote nature of the methodology, the client was particularly concerned about the choice of research platform, seeking assurance that participants would be anonymized, and that reporting including adverse events was supported.
For the two focus groups, the client wanted to recruit dermatologists who spent 75%, or more, of their time on medical dermatological procedures as opposed to aesthetic dermatological procedures. They also needed to have treated patients living with acne or rosacea in the last 12 months, and have frequent interaction with pharma reps. Each mix also needed to include a mix of independent providers and those from group clinics, and a mix of experience, recruiting participants with either 2-5 years of experience, and those with more than 15 years of experience. The very specific composition of small virtual focus groups made the recruit particularly challenging.
A further complication was that the 90-minute groups needed to occur during morning office hours to allow for the moderator's time zone difference of five hours (GMT+1) compared to the US.
M3's expert qualitative operations team led a detailed client kick-off call to discuss the research objectives, and agree timelines, as well as offering advice on the platform and discussing the sampling plan. Given the strict regulatory frameworks in place for healthcare research, the team recommended M3's proprietary online qualitative research platform, QualStage.
QualStage was built specifically for healthcare market research, and included anonymization of participants, easy tagging of adverse events, and a private virtual backroom for clients to observe the research in real time. As the sessions all took place in English, the simultaneous translation tools available in the platform were not required. As the client had not used QualStage before, the M3 team hosted a training session for the client so that they could experiment with the platform and understand all of the features and functionality.
The use of QualStage also meant that there was seamless integration between QualStage and M3's online scheduling and screening tools. Given the moderator / participant time difference the online scheduler was particularly useful, allowing the respondents to choose their preferred slot matching the moderator's availability.
Given the complexity of the sampling plan and the need for even splits across both groups, dynamic audiences were generated using M3's innovating dynamic profiling tools, which use rich data from the previous participation of opted-in respondents, as well as user-entered profile information to effectively 'pre-screen' potential respondents, reassuring the sampling team of the project feasibility before invitations were sent out. All screening was completed online, and compliance questions were included in the screener to minimize follow-up. The online screening also meant the project team could see at a glance who had qualified and scheduled themselves for the research in real time. They then followed up by telephone to check any technology limitations during the rescreening process. As the majority of respondents were taking place during office hours at their place of work, QualStage was a significant benefit as they did not need to download any software on to their computers as it is fully web-based. Qualified respondents were asked to confirm that they had a reliable internet connection and a modern browser, and were provided with orientation guides to use QualStage.
Throughout recruitment daily updates were sent to the client, with the study fully recruited after three days. A second wave of invitations was sent to replace one respondent who had a scheduling conflict. The call centre supported on this project, reconfirming by telephone to offer respondents additional opportunity to ask any questions, and minimizing no-shows.
The client was delighted with the outcome of both groups, which exactly met their specifications from the kick-off call. QualStage was well received by all stakeholders, including the moderator, who was new to the platform.
Details
Therapeutic Area:

Dermatology

Respondents Recruited:

Physicians

Methodology:

Virtual Focus Group

Country:

United States